Spessartine is the fusion of Ruby (hand gem) and Yellow Sapphire.
Appearance
She has an orange complexion, a small nose, plump lips, and cream hair with bangs that reach to her shoulders. She has three eyes, the right one being red, the left one being yellow, and the top one being orange. Her gemstones are located on the back of her left and right hands.
She wears a orange and dark orange bodysuit with a lighter orange tunic, dark orange boots, white pointed sleeves, and white elbow-length gloves. A pink and orange visor covers her eyes.
Personality
Nothing is known about Spessartine's personality yet.
Abilities
Spessartine possesses standard Gem abilities, bubbling, shapeshifting, fusion, regeneration, agelessness, and superhuman strength/durability.
Gemology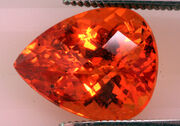 Spessartine, sometimes mistakenly referred to as spessartite, is a nesosilicate, manganese aluminium garnet species, Mn2+3Al2(SiO4)3.
Spessartine's name is a derivative of Spessart in Bavaria, Germany, the type locality of the mineral. It occurs most often in granite pegmatite and allied rock types and in certain low-grade metamorphic phyllites.
Spessartine forms a solid solution series with the garnet species almandine. Well-formed crystals from this series, varying in color from very dark-red to bright yellow-orange, were found in Latinka, Rhodope Mountains, Kardzhali Province, Bulgaria.
| Image | Description |
| --- | --- |
| | Ruby's gemstone is located on the back of her right hand. It features a square facet and is circular in shape. |
| | Sapphire's gemstone is located on the back of her left hand. It features a triangular facet and is circular in shape. |
v • e
Fusion Gems




Cross-Alignment Gem Fusions