Phosphosiderite is the fusion of Amethyst and Ice.
Appearance
Phosphosiderite has lavender skin and selago hair. Her hair is unkempt, comes to a point in the back, covers her right eyes, and comes down to her knees. She has four eyes, four arms, a small nose, plump lips, and prominent fangs.
Debut
Phosphosiderite wore a sleeveless layered navy, bright violet, and light blue tunic with a rounded neckline. She also wore dark violet tights with light violet toes that had star-shaped cutouts in the knees.
First-regeneration
She wore a sleeveless light blue tunic with a high neckline which featured a dark violet waist and bottom. She wore darker violet tights with torn star shapes in the knees, tucked into violet boots with lighter violet toes.
Pre-regeneration
This is the only regeneration where she had pink eyes instead. Phosphosiderite wore a violet tunic similar to Amethyst's, with a darker violet piece underneath that had a triangular cutout to display her gemstones. She wore dark violet tights with star-shaped cutouts in the knees, tucked into short, light violet boots.
Post-regeneration (Current)
Phosphosiderite wears a white and dark violet tunic with triangular cutouts at the bottom, which creates a torn look. She wears a violet bracer with a white star and a white bracer with a violet star on her upper arms. She wears darker violet tights with lighter violet star shapes on the knees, tucked into darker violet boots with lighter violet tops.
Personality
Phosphosiderite is described as goofy and enjoys having fun, but knows when it goes too far.[1] Phosphosiderite combines Ice's stubbornness with Amethyst's recklessness into a bit well wild personality.[2]
Abilities
Phosphosiderite possesses standard Gem abilities, bubbling, shapeshifting, fusion, regeneration, agelessness, and superhuman strength/durability.
Skillset
Whip Proficiency: Phosphosiderite can use Amethyst's whip and fight with it.
Unique Abilities
Cryokinesis: She possesses Ice's ability to control and create ice and snow.
Gemology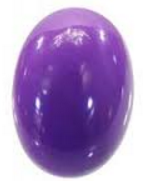 Phosphosiderite is a vibrant purple orchid color and is a relative newcomer to the world of gemstones as it was only discovered in the late 19th century.
Fine quality phosphosiderite is hard to come by and this opaque gemstone may contain veins of yellow.

In addition to purple, phosphosiderite occurs in colors ranging from white, pink, red, violet red and colorless.
| Image | Description |
| --- | --- |
| | Amethyst's gemstone is located on her chest. It features a hexagonal facet and is circular in shape. |
| | Ice's gemstone is located on her sternum. It is faceted and shaped like a thin diamond. |
Galleries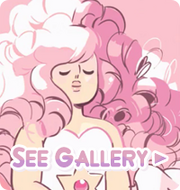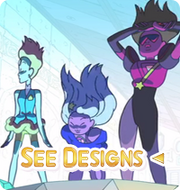 References
v • e
Fusion Gems




Cross-Alignment Gem Fusions